Category: Manufacturing
Project Title: QuikTrip Expansion
Project Designation: Manufacturing Projects
Owner: QuikTrip
General Contractor: Ryan Companies
Architect: McFarland Davies
Engineer: SSR Ellers Inc.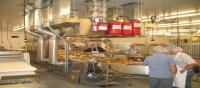 Project Description: Midstate was selected to perform the mechanical services for QuikTrip's Quik'nTasty expansion. Quik'nTasty supplies baked goods and sandwiches to QuikTrip convenience stores across the metro-Phoenix area. The existing facility is a warehouse for distribution.
The Arizona facility is located in Tolleson, Arizona. The expansion added an additional 61,700 square feet for production needs. The work was performed while the existing building was fully operational. The project included a large pick, stage, catch, commissary wash and prep area. This area is fed by four air handlers delivering low temperature air through insulated ductwork. The bakery area included heat exhaust, supply and makeup air systems. The project scope includes low temperature air handling units feeding the warehouse, making it a large freezer, there is a variety of flue ducts and stainless steel. The piping installation included a chilled water skid, warm water skid and a delivery system to the air handlers.
Category: Manufacturing
Project Title: Café Valley Bakery
Project Designation: Manufacturing Projects
Owner: Café Valley Bakery
General Contractor: Sunstate Builders
Architect: Winton Architecture
Engineer: Popov Engineers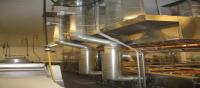 Project Description: Midstate Mechanical was selected to provide the HVAC for the new Café Valley Bakery production plant. Café Valley has been in the baking business for over 20 years, supplying Supermarkets, Convenience Stores, Restaurants and Food Service from coast to coast. Daily products are baked, packaged and shipped from this facility. The new 285,950 square foot facility is located two miles west of the current plant. The new facility increases production and allows for a more efficient operation and higher quality products. The project scope includes 22 chilled/hot water fan coil units, 27 exhaust fans VFDs and a test hood for the kitchen.