Category: Assisted Living
Project Title: Sagewood Assisted Living & Skilled Nursing Facility
Project Designation: Assisted Living
Projects Owner: LCS/Westminster
Partnership General Contractor: Weitz Company
Architect: Todd & Associates
Engineer: Todd & Associates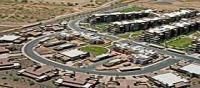 Project Description: Midstate Mechanical proved mechanical services for this remarkable, state-of-the-art 817,500 square foot retirement community that is surrounded by the beautiful Arizona desert. Midstate participated in Phase I and Phase II of this project. Phase I consisted of mechanical services for a 294 independent living building that has lofts, apartments, villas, dining and detached casitas. Phase II consisted of the skilled nursing facility that houses 30 skilled nursing beds, 8 dementia/memory support units and 10 assisted living units. Critical to the project's success was extensive pre-planning, timing and attention to detail due to its size and scope.
Category: Assisted Living
Project Title: Vi at Silverstone Project
Designation: Assisted Living
Projects Owner: CC/PDR Silverstone LLC General Contractor: Summitt Builders
Architect: Summitt Builders
Engineer: Peterson & Associates
Project Description: Midstate Mechanical was selected to provide mechanical services for the upscale Vi at Silverstone, a continuing care community. The project includes 104,000 square feet with a 451,600 square foot main building and 263 individual assisted rooms. This building also houses an 84,700 square foot parking garage and an indoor pool area. The care center is a two (2) story 53,479 square foot building that has 60 individual nursing rooms with core areas that are served by the main lodge central plant. The rooftop central and buildings consist of 371 heat pumps that serve all core areas along with the individual assisted rooms and parking garage. There are two 30-ton chillers serving five (5) fan coils for tempered OSA as well as two (2) boilers for tempering condenser water. There are also 371 water source heat pumps as well as 420 ceiling fans.