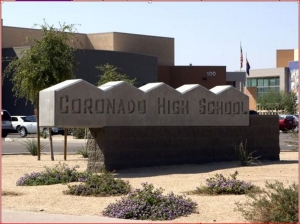 Coronado High School in Scottsdale is one of several in the state saving money on utilities through performance contracting. (Photo: Nick Oza, The Arizona Republic)
Story Highlights
Energy contracts can save large organizations, especially schools, on their power bills
The market could exceed $15 billion by 2020, according to one study
Schools and other large facilities with hefty energy bills can reduce their expenses with the help of energy-savings performance contracting, a little-known field that could grow to a $15 billion industry by 2020, officials said.
Energy-savings performance contracts, or ESPCs, took off after the energy crisis of the 1970s, according to Jim Arwood, a Phoenix resident and executive director of the national Energy Services Coalition. Arwood also was appointed as director of the State Energy Office by Gov. Janet Napolitano in 2006.
The industry includes a variety of companies, including some large corporations such as Honeywell, that upgrade buildings with new appliances and energy-saving features, then get repaid through the monthly savings those buildings realize on their energy bills.
The deals allow organizations that otherwise would not have the cash on hand to make such improvements to begin saving on electricity, gas and water bills.
Despite nearly 40 years of growth, the industry isn't well known outside of those working in facilities management, Arwood said.
The contracts are a good solution for organizations such as schools that don't have endless financial resources, he said.
"The performance contract allows the customer to implement energy upgrades and pay for these upgrades using avoided future energy costs," Arwood said.
"If the annual savings don't materialize to the point of paying for the improvements, then the private sector contractor pays the difference," he said. "But in nearly all cases, the money that is saved on the utility bill is used to pay for the energy improvements over time."
Despite bright spots, Arizona slips to 17th in energy-efficiency rank
The "energy services company," or ESCO, industry was projected to double or triple in size by 2020, according to a 2013 study by Lawrence Berkeley National Laboratory.
The study said the ESCO industry grew about 9 percent a year from 2009-11, and would reach between $10.6 billion and $15.3 billion by 2020.
The biggest market so far for ESCOs has been schools. Private commercial and industrial facilities, while high energy users, show the lowest use of such contracts, the study said.
The remaining potential market, should ESCOs become widely used, is between $71 billion and $133 billion, the study said.
Arizona boasts several examples of energy contracts paying off, Arwood said. They include:
Chino Valley School District initiated a contract in 2012. Savings have increased each year. John Scholl, support services director, said the deals are saving money with energy saved, plus the updated heating, ventilation and air-conditioning systems save money on maintenance.
Scottsdale Unified School District has entered into several contracts for different schools in the district. Arwood said the savings are allowing the district to pay off upgrades early and direct funds back to the classrooms.
Marana Unified School District has done $13.5 million in contracts, using Recovery Act grants for some of the work.
Pinal County entered its first contract in 1999 and now has 29 facilities under contract, saving a total of more than $600,000 a year.
The City of Tucson is working on a contract for 22,000 street lights. The new LED fixtures will save energy and costs and also comply with the so-called "dark sky" standards.
Arizona State University, University of Arizona and Northern Arizona University all have contracts. ASU saves 29 percent on energy annually, or $5 million a year.
In 2010 the Department of Corrections completed a $5 million contract for energy and water measures at its Tucson complex. During the first year after installation, electricity consumption fell by 18 percent, a $230,000-a-year savings.
For more information, go to www.energyservicescoalition.org